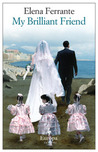 My Brilliant Friend
by
Elena Ferrante
My rating:
5 of 5 stars
Despite
My Brilliant Friend
's prologue (which isn't resolved in this volume), the novel is not a book with a plot that captivates and I believe that's why it has received some fairly harsh reader reviews. But it has also received high levels of praise for its fully detailed characters. What
My Brilliant Friend
offers is an elaborate coming of age story about two young women who grow up in a working class neighborhood near Naples, Italy. Elena Greco, the narrator of the book, spends the vast majority of her words telling the readers about Lina Cerullo, her best friend. Readers get to know Elena through her thoughts and Lina through Elena's opinions of her friend. Sometimes Elena's views are a little off and we're surprised when Lina's dialogue reveals the truth. One example has to do with the novel's title. I won't say how.
The girls, who are in primary school when the book begins, are both extremely bright and very competitive as well as true confidants for each other, leading to a relationship that is a mixture of admiration and jealousy.
What I found most interesting was the part their environment played in their lives. Their culture was sexist and violent, but their families responded to that culture in different ways. For this reason, Elena had more opportunities than Lina and much of the story is about Lina's reaction to this situation.
My Brilliant Friend
deals with problems all young woman face, with family, ambition, and sexuality, but also with issues unique to women living in a culture that doesn't respect them. In that sense, it reminds me of books such as
The Blood of Flowers
and
Snow Flower and the Secret Fan
. It's a perfect novel for someone who wants a book to make them think, but not for someone looking to get lost in a plot.
Steve Lindahl – author of
Motherless Soul
and
White Horse Regressions
View all my reviews