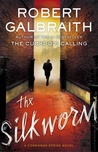 The Silkworm
by
Robert Galbraith
My rating:
4 of 5 stars
The Silkworm
by Robert Galbraith (J.K. Rowling) is a novel I enjoyed. It's an interesting read and I can recommend it, but not to people looking for a good, traditional detective story.
The conclusion is convoluted with very few clues leading up to it. It feels as if Galbraith fabricated an elaborate ending because it was time to end the book rather than having the story unfold naturally. Also, the reason Cormoran Strike believes his client is innocent has no support within the narrative. I've read other crime stories where people act on gut feelings alone, but I don't think it's a good technique.
What makes up for these problems are the complex relationships among the characters. Robin and Matthew (her fiancé) have an interesting relationship because Robin's ambition is to become good at detective work, a dangerous occupation. She wants to help Strike in ways beyond answering his phone and recording his appointments. This presents a problem for Matthew who wants her out of harm's way. It's a great dilemma, because it's easy to see both sides and because it causes friction between Matthew and Strike.
Then there's the relationship between Leonora and Orlando, her special needs child. Leonora doesn't have much of a personality, but she comes alive when she deals with her daughter and it's beautiful to see.
Finally, there is the relationship between Strike and Alexander, his half brother. Al is the legitimate child, a fact which bothers Strike, but Al does everything he can to make their relationship work. And Strike's occupation leads to some tricky requests for favors.
Steve Lindahl – author of
Motherless Soul
and
White Horse Regressions
View all my reviews