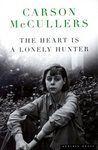 The Heart is a Lonely Hunter
by
Carson McCullers
My rating:
5 of 5 stars
The Heart is a Lonely Hunter
is wonderfully written. It covers big topics, such as racism in the depression era south, but never seems to force the author's views on the reader. Most of the African-American characters speak with broken English and one responds to a brutal act with ignorance, but Carson McCullers also included an educated African-American man in her narrative and in the process avoided the stereotypes so common in work from that period. Although a depiction of southern racism is included, it is not the sole topic of the novel. Other subjects covered include poverty and the politics of the time, but the primary theme is the loneliness of human existence.
The book starts with two mutes, John Singer and Spiros Antonapoulos. It goes on to cover their relationship and also Singer's relationships with Mick Kelly, a young girl whose family runs a boarding house, Biff Brannon, the owner of a diner, Jake Blount, an alcoholic advocate for communism, and Dr. Benedict Mady Copeland, the educated African-American I mentioned previously. All of these people seek out Singer's friendship and, because the conversations with a mute are primarily one sided, they mold their image of him into the various personalities each of them wants. They don't take the time to learn what Singer is feeling. This observation of human nature is my favorite aspect of the novel.
The Heart is a Lonely Hunter
is enough of a classic to be translated into other languages. This is important to me because I liked the novel enough to recommend it to my wife. She prefers to read in French, so I ordered her a copy of
Le Coeur est un Chasseur Solitaire
. I know she'll enjoy it.
Steve Lindahl – author of
Motherless Soul
and
White Horse Regressions
View all my reviews